Another long weekend? Oh, go on then. The first May Bank Holiday is within touching distance and there's loads going on in Oxfordshire. Read on below to find out what events and activities are taking place this weekend (4 – 6 May) for families.
If you'd like great events, competitions and recommendations sent directly to your email inbox, why not sign up to our weekly newsletter here
MADAGASCAR THE MUSICAL AT NEW THEATRE OXFORD
30 April – 4 May
Join Alex (X-Factor 2016 winner Matt Terry), Marty, Melman and Gloria as they bound out of the zoo and onto the stage in Madagascar The Musical.
This smash hit musical features all of your favourite crack-a-lackin' friends as they escape from their home in New York's Central Park Zoo and find themselves on an unexpected journey to the madcap world of King Julien's Madagascar.
This brand new musical from Dreamworks (Shrek The Musical) will leave audiences with no choice but to 'move it, move it'!
Suitable for ages 3+.
Running time: 1 hour 40 minutes (including interval)
Age guidance: 3+
For more information or to book tickets click here
Comedy Club 4 Kids, Chipping Norton Theatre
4 May 2019
Since 2005, the Comedy Club 4 Kids has been getting the best stand-ups and sketch acts from the international circuit to do their thing for an audience of children (aged 6+) and their families… but without the rude bits!
A decade later, the company has expanded from one London residency to being countrywide, running shows and workshops all over the UK from Peebles to Portsmouth, even producing a book on how to write and perform stand-up.
The show is family friendly, but without any patronising idiocy. In fact, it's just like a normal comedy club, but it's on in the day, kids are allowed in, and thus there is a higher than usual chance of the entire audience claiming to be called Bob.
Comedy Club 4 Kids is showing at 2:30 on 4 May.
To book tickets click here
Family Dog Show in Dorchester
4 May 2019
A  fun day out for all the family and your dog held in the beautiful grounds of Dorchester Abbey.
The outdoor show ring will be a calm and safe area for your dog to take part in the classes throughout the day.  There will be a class to suit you and your dog whether puppy, veteran, rescue or the fun loving fancy dress type.  All dogs welcome – mutt or pedigree – and that goes for the owners too!
Delicious refreshments available all day and stalls for you to peruse.
For more details click here
Abingdon Air & Country Show
5 May 2019
The Abingdon Air and Country Show began in 2000 as a local fete organised by Neil Porter, a landscape gardener by trade. Created with the desire to put something back into the community and to provide a family day out at an affordable price.
In addition to the aircraft there's music, dancing, classic cars, falconry, flight simulator rides and lots more
My First Ballet: Sleeping Beauty at Wycombe Swan
4 – 5 May 2019
Give your children their first taste of the magical world of ballet.
Enjoy the classic fairy tale ballet together, in this new version especially created for children aged three upwards.

As a baby, Princess Aurora is cursed by Carabosse: on her 16th birthday, she will prick her finger on a spinning wheel and die. Her godmother the Lilac Fairy alters the spell, so Aurora will not die but will sleep for 100 years, only to be awoken by her true love.

From Aurora's christening in the grand hall of the palace, to her jubilant wedding celebrations, the popular story comes alive on stage. With a shortened version of Tchaikovsky's gorgeous music, this is the perfect introduction to the beauty of ballet, and a fantastic family day out. Performed by second-year students of English National Ballet School, the My First Ballet series has been enjoyed by over 290,000 people since its creation in 2012.
For more details click here
Music in the Park, Thame
5 May 2019
Music in the Park, held every year since 2011, is a family-fun event featuring live music and dance acts to entertain kids, teens, parents and grannies alike! The music festival is held in Elms Park, Thame Oxfordshire and runs all day from noon until around 9pm.
The event includes 3 live stages, 2 well stocked bars, delicious food, children's activities and a great line-up for all ages!
Acts this year include The DUng Beatles, Little Micks, The Paves, Memphis Rattlesnakes, The Ponderosa, The Vibe, Working Dog plus lots more.
To find out more click here
Bluebells and Wisteria at Greys Court
25 April- 31 May
Discover a beautiful carpet of bluebells and the stunning 128 year old wisteria in the garden.
For more details click here
Jousting Tournament at Blenheim Palace
4 – 6 May 2019
Jousting Tournament at Blenheim Palace is a weekend packed with action and entertainment, with knights on horseback charging in traditional tilt and battling on foot with the mighty mace and quarterstaff!
HIGHLIGHTS INCLUDE…
Jousters – Birds of Prey – Medieval Blacksmith – Jesters – Dragon Walkabout and Parade – Children's Archery Range – Medieval themed Craft Tent
For more details about the Jousting Tournament at Blenheim Palace please click here
Thomley Spring Open Day
4 May 2019
We absolutely love Thomley and they are holding a Spring Open Day! There is so much for babies, toddlers, children, teenagers and adults of all abilities to do.
Hot food and drink available all day. FREE entry and no need to book.
For more details click here
Thame Country Fair
5 – 6 May 2019
Thame Country Fair is arriving in Thame this weekend with plenty of family entertainment.
Activities include historical reenactments, racing ferrets, a games emporium, a puppet show, a chocolate workshop and lots more.
For more details click here
Carterton May Day Fayre
6 May 2019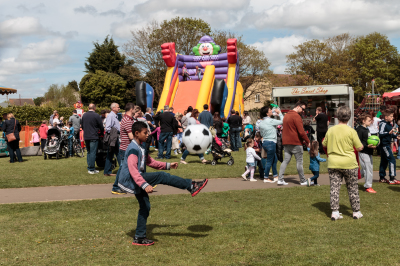 Thousands of people bravied the scorching heat in May 2018 and flocking to the Carterton recreation ground to enjoy a fun filled family day out. There were lots of stalls and attractions including Pete the Baby T-Rex, a Jurassic Park Jeep, the Iron Throne, Punch & Judy, fairground rides, a craft marquee, refreshments and a fabulous dog show run by K9 Playtime Academy.
Find out about this year's event 
here
WILLIAM MORRIS & THE THAMES AT THE RIVER & ROWING MUSEUM
4 – 6 May 2019
This new exhibition at the River and Rowing Museum illustrates the rich and little-known story of William Morris' deep connections to the Thames.
It brings together a unique selection of works, with loans from the V&A, The William Morris Gallery, British Library, and many more. Highlights include Morris' Thames series of textiles alongside his original hand-drawn designs, a signed copy of News from Nowhere, and his personal fishing tackle and spectacles. Materials from the Morris & Co. workshop illustrate the production process, while socialist pamphlets that Morris penned and published demonstrate his deep commitment to socialism in later life.
The influence of the Thames and its tributaries flowed through William Morris' life and work. The river provided the setting for his leisure time spent angling and boating, inspiration for his designs and writing, and the ideal water conditions for the manufacture of his textiles. One notable Thames boat trip from his London home via Henley to his rural retreat in Oxfordshire was so moving that it inspired his socialist utopia novel, News from Nowhere.
Explore the Thames through Morris' eyes: a beautiful retreat from urban excess and the capitalism he despised, a valuable resource continuing the river's working heritage, and a rich source of creative inspiration. Step from the exhibition straight out onto the riverbank and find your own earthly paradise.
 "The true secret of happiness lies in taking a genuine interest in all the details of daily life."  William Morris
For more information click here
KIDS CLUB AT YOUR LOCAL CINEMA
18 – 22 April
Little Ankle Biters are always on the look out for ways to entertain the kids without spending a fortune. Lots of cinemas run kids clubs on weekend mornings where you can go to the cinema at a discounted price.
Here's our guide to cinema kids clubs in Oxfordshire:
ODEON IN BANBURY & OXFORD – £3.25 EACH
VUE IN OXFORD – £2.49 EACH
LAMBING AT GREEN DRAGON ECO FARM
From mid March
At Green Dragon they have rare breed lambs twice a year. This spring they're expecting about 50 lambs which will start around now.
For more details click here
EATING OUT WITH THE KIDS IN OXFORDSHIRE?
If you fancy grabbing a bite to eat while you're out and about with the family we've got loads of suggestions for child-friendly restaurants in Oxfordshire. Check out our handy guide, please click here.
If you would like these great events sent directly to your inbox why not sign up to our newsletter here?